Test fitting height of bracket mount. This locates off the top radiator bolt hole. To improve clearance with the pulley you can see in later pics how I moved the bracket behind the core support and spaced it back with a 3/8x3/4" bushing. I think it would be stronger if I used heavy wall 1" square tube to space it with rather than a bushing as the core support material is not all that thick and minimizing vibration would be to my advantage in the long run.
Plenty of hood clearance here:
Here's a pic of the bracket drilled to fit the Appleton cooler/reservoir/filter. If you are going to use a PSC reservoir you will want to make this wider to fit their wider mount and also note that it will locate differently on the core support as PSC reservoir holder slides up and down the reservoir for height adjustment and it also has a separate 90* bracket that forms the actual mount:
All these pics are taken in a rig without body lift. If you have body lift the fit is even better.
If you use a reservoir other than the Appleton that has the filter at the bottom you may be able to mount a radiator overflow tank directly beneath the reservoir.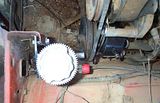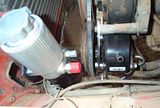 In this pic you can see how I have a socket wrench engaged in the notch on the forward pump bracket used for belt tightening:
Now, as I used the space where the radiator overflow tank was I'll get a 3" x 8" stainless one from Summit and put it back on the firewall on the driver's side.