Just found you guys and figured I would use the first post to show off the War wagon as the wife calls it. I picked it up about a year ago and have been slowly acquiring parts and doing a few things here and there with the ultimate goal of a self sufficient camping rig.
I started with a 2k budget for a new daily driver / work truck after a few trips to check out some really overpriced scrap iron I saw this sitting on the side of 290 for sale.
1983 wagoneer 360 d44s and a bad redneck lift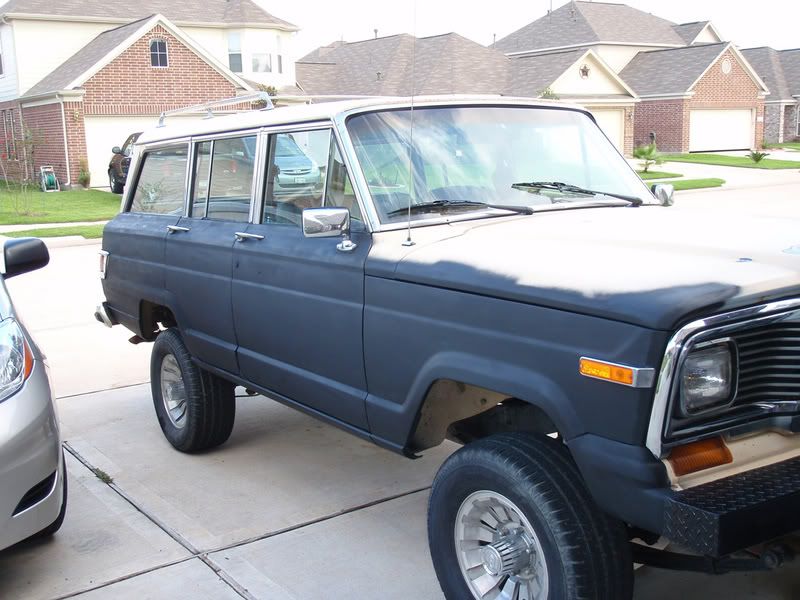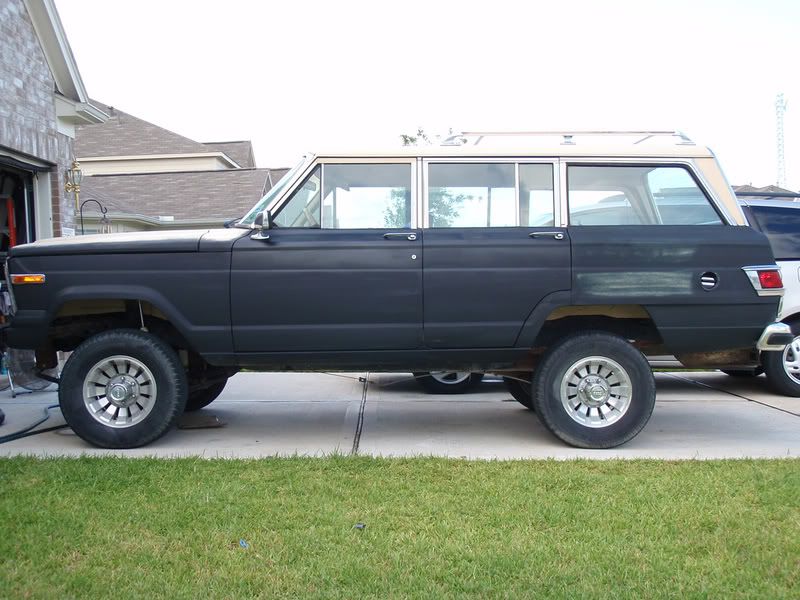 I stopped and ask the price and the guy tells me he wants $1800 for it but after driving it around and blowing the critters out of the carb I noticed a light tap from one of the lifters so was a little put off. After talking to the seller for a bit I find out we have a mutual family friend and he really just wants it off his lot for what he paid for it. So after a little barganing for his guys to put in a good battery and a little fuel and dropping $1200 in his hand I was off with my dream project (or headache however ya look at it lol).
First off a good cleaning and chocolate brown shag carpet removal along with several generations of field mice from the engine bay and glovebox.
I had to do alot of sanding and adhesive removal where the PO had tried to remove the woodgrain with a grinder, and I just shot a quick coat of primer to cover the bare metal.
I had already noticed a fuel smell on the way home but it was getting steadily worse the more I ran it, after some investigating I found the fuel delivery system from here on known as the sprinkler system full of holes and the fuel pump dumping more fuel from the vent hole than the fuel line. lucky me Im a oil and gas instrument tec so I had a load of stainless tubing and chem proof flexline and belive it or not the local parts house had a fuelpump in stock for $15 along with a large inline filter.
Skip forward a couple months and I finally drove it out to my fab shop at my moms place for some much needed fab work. First off I needed to correct the rednecked lift and see what could be saved of the suspension. Some one had welded homemade 6" shackle mount extensions to the front end and stacked lift blocks in the rear for a 6" or so lift, which caused the shackle to be fully extended and bound at normal ride level and the steering was so screwed off that 55mph on a smooth highway was a adventure.
I checked all the welds and material and concluded some of it could be saved just by just rearranging it a bit closer to factory specs. In the middle of this I noticed they actually replaced the factory springs with 4" lift springs of unknown make but the stickers were still inplace just unreadable. For the rear I have a set of 4" springs on order from 4wp to do away with the stack of death blocks.
I managed to get my hands on a set of 15x10 soft 8s for less than $100 and the guy threw in a 33"bfg all terrain mounted on a gmc wheel as a spare for free. The wheels have a set of 35/1250/15 coopers on em but 2 are ripped through the sidewall and one is cutup badly So I will be in the market for some new rubber for it.
After I worked out some gremlins in the powersteering system and buttoned up some wiring problems in the cab I welded up a true dual 2.5" thrush exhaust. I then started on the low cost part of the build STEEL! I have been collecting materials to build up a rig for several years so material cost is close to nothing lol I fabbed up the front bumper and hidden winch mount leaving room for a bullbar and failead in the future when I can swing the price of a winch.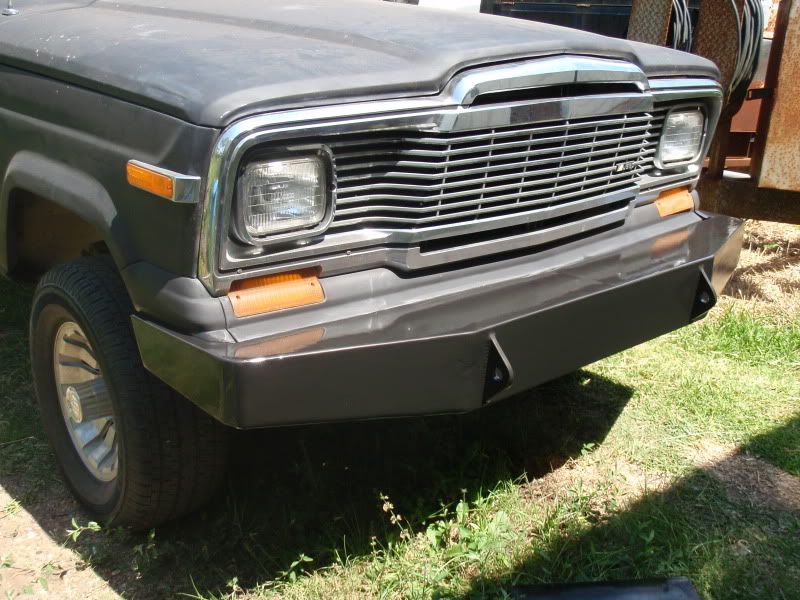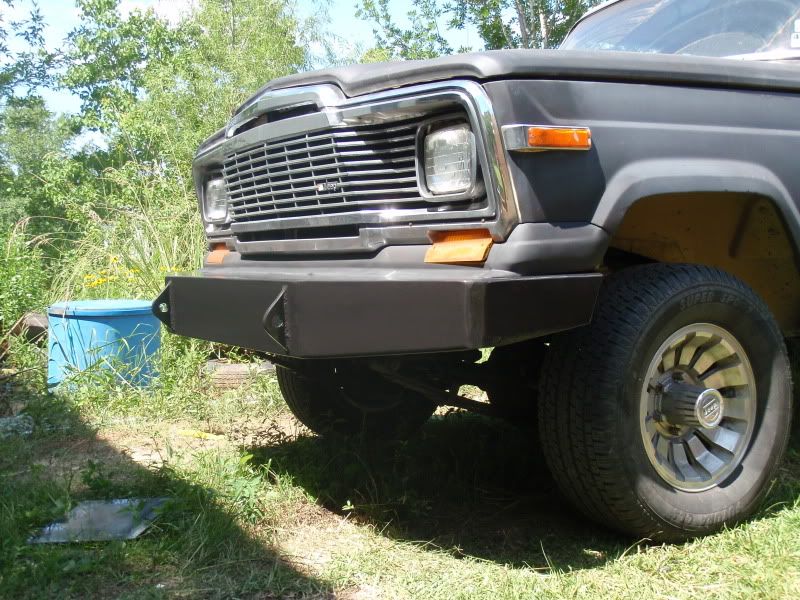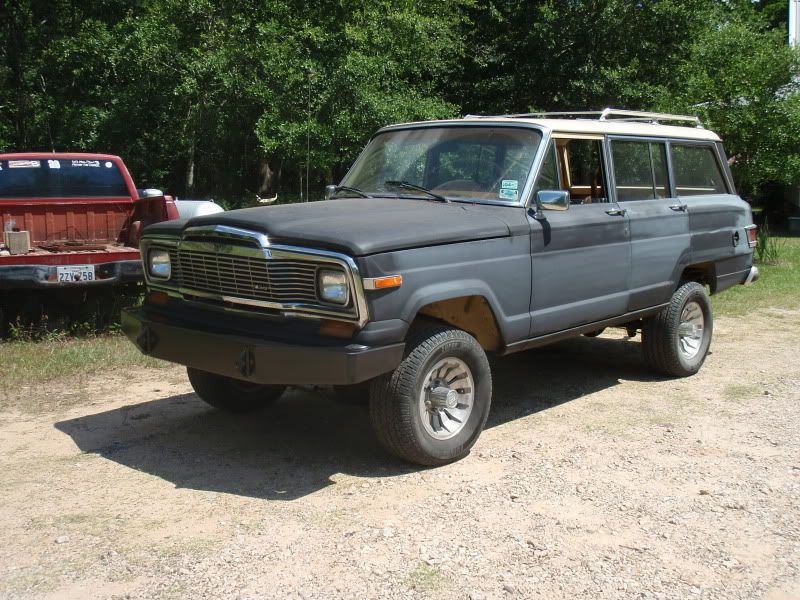 Funny thing is with the wieght of the new bumper and chopping almost 4 inches off the spring hangers I gained a inch of height in the front by just doing it right lol.
I now have the rear bumper fabbed up with a swingout spare and jerrycans along with the hylift jack. Next is the sliders and safari rack I might use my old aluminum diamond plate skid also.
Well if you are still reading this novel by this point its good to be here and I look forward to meeting some of yall if anyone is close to the cypress area and needs some help jest let me know.