Notes from the author:
I was raised in Alaska and grew up around Willys-Kaiser rigs from day one. By the time I was seven years old I had already developed a fond affection for an old Willys pickup that had been left to rust down the road from my home in Anchorage. It would be another nine years before I was actually wheeling in a Willys. The truck was mounted with
tires off a DC-3
. It made a great beach truck, but topped out about 35 mph. I was hooked. Several years later I owned my first Kaiser truck and it was a '67 J3000 with the 327 and T98 tranny and it went everywhere I wanted to go. Later I owned several Cherokees and finally bought another Kaiser truck, the '65 J200 I'm building today. I had always been interested in the bigger truck, the M715 and still plan to pick one up. It wasn't until 2005 that I got more curious about the dually J trucks and started to compile information and pictures of them.
There were several different versions of the dually J truck and the information I am sharing here is by no means complete. If you would like to contribute to the history, tech or registry please send me an e-mail with the information you have or just pics and locations of rigs as you come across them. From what I have discovered, the most heavily used and abused dually J truck was the stake bed. Nearly every stake bed I have seen pictures of demonstrates what a hard life it had. The tow trucks, or wreckers, seemed to have faired much better over the years, possibly because their load was towed behind them and they likely spent much of their life on or very near the pavement. The dually J truck was available as a cab and chassis (no bed) and was also available with a chassis mount cabover camper. The M715 was also available as a dually, although this was accomplished with the addition of a spacer at the rear wheels as opposed to the truck using dually rims with the large offset.
I had written to one fellow Jeeper who told me that he had driven the dually J trucks when he was in the Navy Seabees. I had asked him about production and he told me that the Kaiser Corp (and possibly AMC) farmed out needed dually orders to custom houses much the same as a Ford van goes to Vanagon for prep and building, or a school bus gets built by Superior on a truck chassis. He went on to describe that large orders were generated by the military, Forest Service, BLM and contractors. The excess and short runs went to the largest Jeep dealers for show and to the utility companies for promotion. A Jeep owner in Australia informed me that he purchased a DRW J3000 that was one of 30 built for use by Australia's Forestry Service, these trucks are right hand drive and will be viewable in the registry.
The majority of the DRW J Trucks I have been able to document are Kaiser era rigs. I have come across a couple of exceptions that demonstrate there were some DRW trucks available from AMC either as factory or dealer options. One truck was a '73 J4000 that was built as a wrecker using single rear wheel (SRW) axles/rims with the addition of
wheel adapters
to fit dual tires on the stock 16" SRW rims. Another wrecker is a '78 that was built using a D44 open knuckle front axle w/DRW hubs and what appears to be a Dana 60 rear axle which is sprung with extra leaves and the addition of coil overloads, this vehicle will be viewable in the registry. Most of the AMC (and the occasional DC) era wreckers I have discovered were SRW. I have confirmed that AMC DRW trucks were produced in 1970 with the Dana 70 axle and did not use the "California" style rim (split ring), the one I know about was built in Australia at their Jeep factory and I have yet to record any that have been found state side.
What would appear to be the rarest version of the dually J truck is the chassis mount cabover camper depicted in the factory brochures (the first pic is SRW, the second is DRW):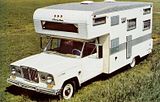 These trucks could be had with standard length frames or extended frames for a longer camper. One 1966 J3000 camper truck that I tracked down in Maine had the frame extended for a wheelbase of 147.75". This truck was purchased in 2004 and is undergoing restoration. A 1967 SRW camper truck in Florida has an extended wheelbase of 165". Factory/dealer chassis mount camper trucks had a
custom plate
on the door frame next to the VIN tag.