Click here to view more info or to contact me at Custom Power Brake
The used Astro hydroboost (available on request with prepayment) is only $125 shipped if you don't need the master cylinder (1980 down to about '74 or so FSJ), add $25 for the MC if you do need it and another $53 for the mount (depending on the type mount you'd like, $98 for stainless). I have this worked up for the M715 and Commando also. Then I have a setup for the CJ7, Jeep Wrangler YJ, TJ, ZJ and find these work in Chevy S10 applications.
**I've verified these can be used for a direct bolt in (after threading the rod for the clevis) '68-'82 C3 Corvettes.
Also added a new hydroboost set up for the CJ5/7/10/XJ/ZJ utillizing a one piece mounting bracket so there is no additional charge for a second spacer.
These hydroboosts will work for every year FSJ by tweaking a few things. If you have done brake upgrades, have a good solid system that is set up and bled correctly but just don't think it's performing like you think it should... this system will knock your socks off.
For current Ebay listings go to:
http://www.ifsja.org/forums/vb/showthread.php?t=106056
This is a NEW hydroboost I am selling on a limited basis, this is shown with the adustable rod end, a stainless mount and the P30 iron MC:
Pricing on the new units here are $434 shipped with a painted mount or $479 shipped with a stainless mount (while the small supply of stainless mounts lasts, the next run might be double...) the stainless plates are cut a little oversize and are blank for the bolt pattern to keep them more universal, the fit and drill is up to you but it is a pretty close match to the aluminum firewall block.... too narrow for a CJ, but will fit a TJ and many other vehicles at 5x5".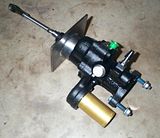 The new (one ton) HB with a long accumulator (add $50 for the accumulator upgrade):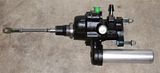 This is one type of '74+ FSJ stainless spacer available for $54. Purchased/shipped separately from a buddy:
Installation tips:
1) Under no circumstances do you bleed this system with the engine running.
2) Under no circumstances should you EVER manually pull the brake pedal up from the floor or you will render the Hydroboost inoperable.
3) If you replace your master cylinder you must first bench bleed it and then bleed your brake system prior to bleeding the hydroboost system.
Running all discs? These are reported to work just fine with the Astro MC (in all cases excepting with the addition of very large bore calipers from one ton trucks, as in the F450 with big pistons) but you want to add a larger reservoir. Alternatively, you can use '77-'82 Corvette master cylinders for most applications but may want to use a one ton truck MC depending on which calipers you are running.
***If you are interested in buying one of these from me, either buy the one on ebay or click on my name and send me an email (don't PM me please).
Hydratech's (these guys are pros and sell new systems as well as hose fittings/lines) info on brake bleeding and PS system flushing:
http://hydratechbraking.com/forums/viewtopic.php?t=282
http://hydratechbraking.com/forums/viewtopic.php?t=129
Disclaimer: Hydro-Boost is a registered ® trademark of the Robert Bosch Corporation. All products herein are modifications and not directly or indirectly affiliated with the Robert Bosch Corporation unless noted. Custom Power Brake (aka Sterlingworth16) is not affiliated with Bosch. All products herein are designed for off road use only and are not DOT certified. The process to meet DOT certification is extremely lengthy. To my knowledge, no other aftermarket modifier of hydroboosts has their units DOT certified for street use either. Any purchase of product and/or use of tech related to these products constitute the understanding that brake line pressure will be dramatically increased and the acceptance of liability or risk related to use.